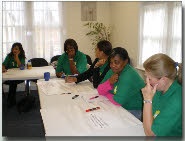 Unity In Care Ltd is led by a Manager with 38 years experience, 2 Care Co-ordinators and 3 Senior Care Workers. Our care/support staff really do benefit from being coached and trained by the most experienced in the business – 'people who truly know' the Health and Social Care sector.
Unity In Care Ltd is dedicated to staff training and development, as it recognises that in order to provide access for all, regarding job availability and promotion, appropriate training will be given. It is our aim that all new staff undergo an 'in house' induction training, and all other mandatory and relevant training required for them to carry out their work effectively. We are a member of the 'Skill Pledge Training' at present all staff (including administrators) have either obtained QCF/NVQ or RQF level 2/3 or in the process of achieving them.
Unity In Care Ltd also recognises that the normal avenue of training might not be used for all staff, especially those whose English is a second language, and all efforts are made to adapt the training to meet their needs.
Our Training and development is carried out in our own 'training room'-using our 'resident trainers'. However, we do partner with 'external trainers' for a variety of courses: Guardian Training; Opus Training; Hampshire PACT; St Johns Ambulance; Farnborough College of Technology – Train to Gain;
Company Mandatory Training – undertaken by all staff:
Care Certificate Workbook
Moving and Handling People
Infection Control
Abuse Awareness/Safeguarding People
First Aid
Food Hygiene
Health and Safety
Working in a Care Setting
End of Life
Introduction to Mental Health
Challenging Needs
Dementia
Medication/Medicine Course
Equality and Cultural Awareness
Parkinsons Disease