Busy, tired, have no time to do that long awaited 'spring clean'? Not enough hours in the day? Working full time, but want the quality hours at the weekends, without the worry of what is needed to be cleaned? Well, 'wipe away' the past and have a 'recharge' with a 'one off', weekly, monthly or simply that special occasion clean.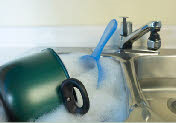 Our specialised team of cleaning operatives cover all local areas of Hampshire, Surrey and Berkshire.
Our Services Agenda
We aim to offer efficient and professional staff to all our clients.
The services that we provide are:

Vacuuming

Dusting & Polishing

Cleaning of work surfaces

Cleaning of windows (insides only within arms reach)

Mopping of floors

Bathroom cleaning

Empty bins

Brass cleaning

Cleaning of cupboards

Help in cleaning out your wardrobes

Shopping

Laundry Service – Private/Industrial Machines too
Hours of Operation
Office Hours:     9.00am – 5.00pm   Monday – Friday
Out of Office:
7.00am – 9.00am
5.00pm – 10.30pm
Services are available from: 8.00am – 7.30pm